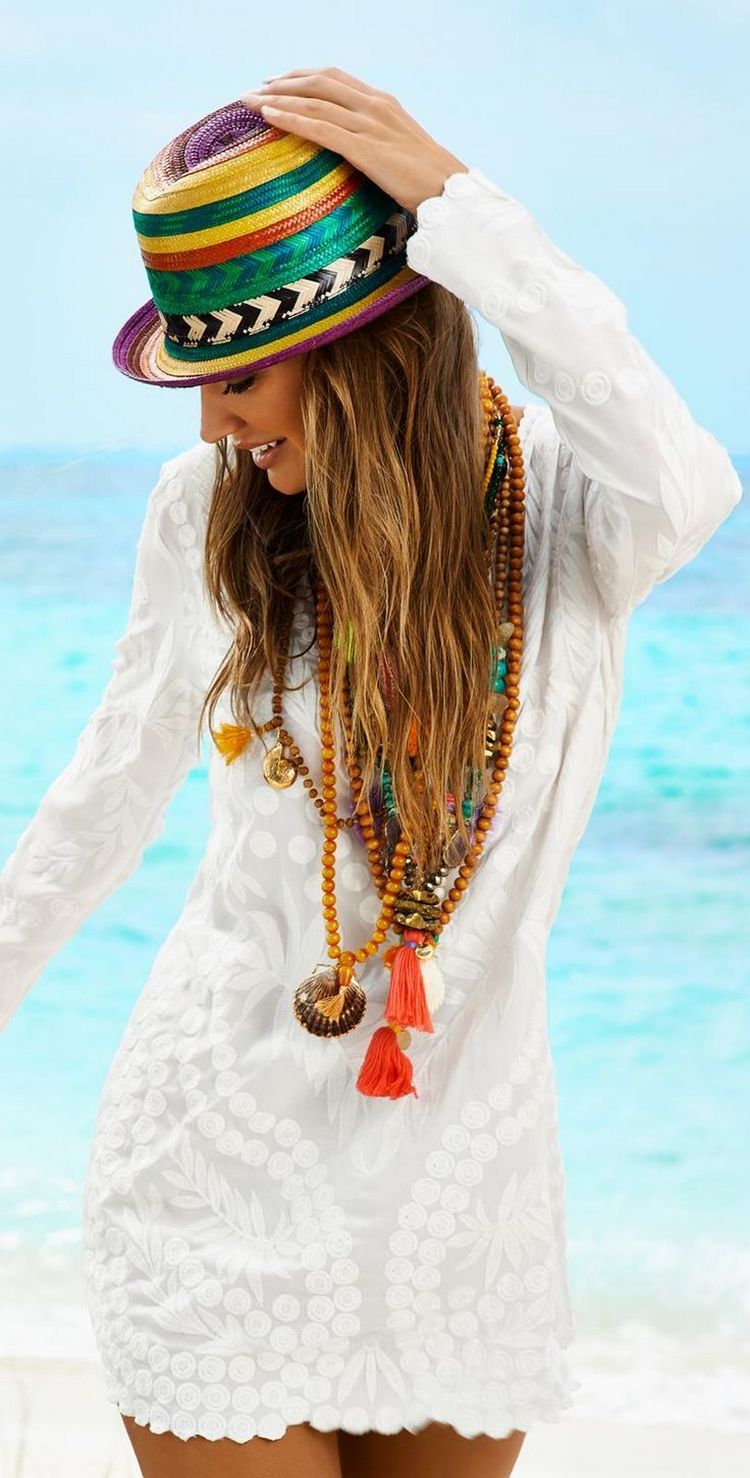 Fringes, round sunglasses, flare pants,  and cotton/lace white boho dress are back,  in a festival environment or a more romantic scenario.
The Bohemian spirit of seventies has reborn and invaded summer 2015 with relaxed proposals, with fresh and light clothes, bridged by the loftiness of fashion accessories.
White dress – the perfect choice
White boho dress is the perfect and safe choice for all styles this spring summer 2015. Light, fresh and feminine, it adds brightness and reveals all the versatility, combined with the right fashion accessories, as shallow sandals, bags and hats, for everyday life relaxation, or high heels and jewelry – to shine in a more sophisticated occasion.
Shop options:
Alexis EXCLUSIVE Bell Sleeve Lace Dress;
Susie Lace-Trim Tiered Shift Dress;
Miguelina Serena Puebla Lace Up Dress;
Sleeveless Lace Trapeze Dress;
Aphrodite Snake-Embossed Gladiator Sandal, Taupe;
Sparta Gladiator Sandal, Ale;
Nadine Gladiator Flat Sandal, Luggage;
Mirrored Two-Tone Aviator Sunglasses, Rose Golden/White;
Linda Farrow Snakeskin Arm Rosegold Metal Sunglasses;
Carlina Round Wire Metal Sunglasses, Rose Golden/Peach;
Eria Round Mixed-Metal Sunglasses, Amber;
Miki Round Pantos Mirror Sunglasses, Light Brown/Blue;
Hat Attack Short Brim Straw Fedora: Cream;
Squishee Classic Fedora, Natural/Black;
Squishee Classic Hat, Natural/White;
Missoni Mare Zig Zag Top Knot Knit Turban: Pink;
Long Multi-Strand Necklace, Blue, 42″;
Long Multi-Stone Pendant Necklace, Blue;
18k Gold Hammered Plate Necklace, 32″L;
Natu Long Tassel Necklace;
Confetti Necklaces;
Long Multi-Stone Necklace, 31″;
Long Tassel Pendant Necklace, 36″;
Pave Cone Tassel Earrings;
Sara Battaglia Jasmine Fringe Bucket Bag: Beige;
Barbara Bonner Ginger Fringe Crossbody;
Baby Bella Fringe Tote Bag, Tan.
This content is also available in: Portuguese (Portugal)