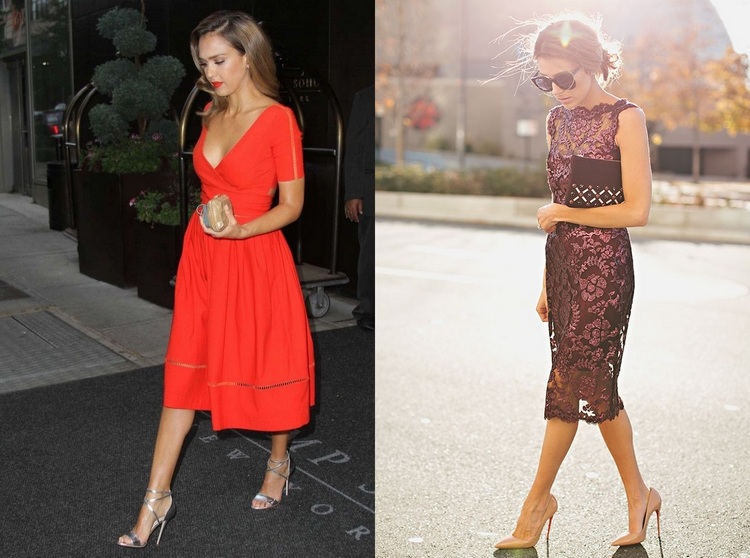 How to wear party dresses, that please all women and when well chosen, adapt to all body tpyes and are the ideal key players for festive occasions of the season. Being the Christmas dinner with work colleagues, the more formal work's dinner, Christmas or New Year's Eve party.
How to Wear Party Dresses


Lace party dresses and with bright fabrics, are very fashionable this winter 2016.
The colors of the dresses could range between red, black, dark blue and neutral tones.
Regarding party dresses length, everything is allowed – from short, to long dresses.
Pay attention to the cut of the dress – low waist models are great for those with a short torso, as this type of cut visually elongates the upper body. However, if you have wide hips, this type of dress is not recommended, as it will further highlight this area. The ideal is to wear the empire cut dress.
Party belted dresses are the best option for voluptuous women. The V necklines are ideal for those with large breasts, as they help to sharp body silhouette.


You can combine your dress with a thick wool coat, high heels and a clutch, getting an elegant and comfortable look for a Christmas dinner with friends. Alternatively, for a more formal dinner, you can match your party dress with a blazer and high-heel sandals.
For more classic party dresses, such as lace, you can combine with a velvet blazer or a tuxedo jacket, high heel shoes and a clutch, never forgetting the jewelry.


This content is also available in: Portuguese (Portugal)